I donated a photo diptych of mine to
Art Against AIDS
, an auction of over 75 pieces of art of different mediums. The proceeds from the event help Heartland Alliance's HIV/AIDS programs and services, including primary care, referrals, assistance with transportation and lab costs, housing, alternative therapies such as chiropractic treatment and massage therapy, HIV prevention education, and oral health care.
The actual event happens February 28th at River East Art Center in Chicago (I'll post a reminder blog in February.) Tickets can be purchased through the link above for $100. All tickets include live and silent art auction and music by DJ Oskar from 6 to 10 pm with cocktails and gourmet food stations.
I won't be able to go, though it sounds like fun. Please go if you are interested! It's for a great cause!
Here is the photo I donated below: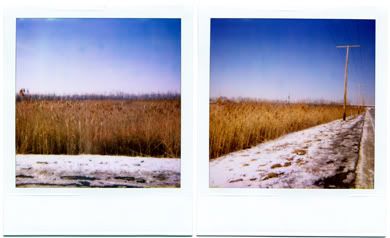 Happy New Year!
Current Location:

office

Current Mood:

working

Current Music:

"Ice of Boston" The Dismemberment Plan


Anyway, the news is that the FLIST show opened this past Friday at the Happy Dog Gallery in Wicker Park, Chicago. I wasn't able to make it to the opening, but apparently, it was awesome. I have four photographs on display to buy (I'm not going to post them yet in case you live in Chicago and might go see this show), so please purchase them and help me pay for my gigantic emergency room bill. (I thought my appendix ruptured and went in for many tests and well, I'm all good!) No, but seriously. Don't buy them unless you like them, and want to help me pay for my bill.

More photographs soon.
Wow. I haven't written in awhile! I have new pictures to share - just haven't posted them.
Current Location:

my office

Current Mood:

chipper

Current Music:

"Read my mind" The Killers
I think it's really hard not to take a good picture at the Shedd Aquarium. This is one of my favorites.

Current Location:

office

Current Mood:

relaxed

Current Music:

Looking at the World from the Bottom of a Well, Mike Doughty


Anyway, I am hoping to use this journal as a way to post some of my new photographs. At the moment - I have a blog that I have been posting on since 2001, a website in the making, and another blog, with friend and artist, Kit Rosenberg, where we post a variety of photographs to stay in touch. Links are located on the sidebar.

Look for photos and whatnot soon!
I think you have to always title the first post, "My First Post" - don't you think?
Current Location:

my office

Current Mood:

geeky

Current Music:

datarock